Twinning of Clubs Great Success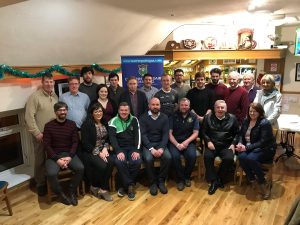 On Wednesday 3 January the club saw the coming together of the Irish and French when our friends from Lyon visited the club to witness the launch of the twinning Partnership between Cumann Pheadair Naofa and Lugdunum CLG, Lyon, France after months of hard work.
President of Lugdunum CLG Eoin Campbell was welcomed, along with the many members of the Lyon club, by club Chairman Eugene Gallagher and members of the club senior committee. Our guests enjoyed traditional music, food and beverages before the official proceeding began. Eoin Campbell, Eugene Gallagher & Feargal McCormack signed the official Twinning Agreement confirming the partnership between the two clubs.
Following on from the official documentation Club Chairman Eugene Gallagher presented Eoin with a club jersey and flag and thanked him for all his hard work which went into this initiative. Eugene also spoke of his excitement at the possibility of events involving both clubs in the future.
Eoin Campbell then presented Eugene with a framed Lugdunum CLG jersey and spoke of his great pride of signing the agreement on behalf of his childhood club and his new French club. Eoin informed the audience of the great work which goes on within Europe GAA Council in encouraging these partnerships and said Lugdunum CLG only hope to follow in the great steps of Cumann Pheadair Naofa.